Michael Stipe
parked on the freeway forget men
hope this is cool
Mark Arm


hello,
looking for rare live video/DVD shows of industrial-japanese noise/punk bands from the 80's-mid 90s
I have tons to trade of bandas like BOREDOMS,UFO OR DIE,EINSTURZENDE NEUBAUTEN,SWANS,WHITEHOUSE,THROBBING GRISTLE&more
see my list at http://almudeno69.hostse.com/index.html
my email is almudeno69@yahoo.com


Content soon, I promise, if there is even ONE person interested!
If anyone is still out there, if anyone cares, PLEASE post. I am wanting to get this group up and running again, and to talk about a new 90's podcast I am making.


BACK TO THE MUSIC!


So, today's song is, in honor of our last poster, Dead and Bloated by STP. I don't know why, but this song has always struck me as my favorite of all their tracks. Easily the best one on Core, this song just has such great imagery...and a great hook. I remember many a bus ride just lovin this one.

Thoughts? Memories? Disputes?
I, um, kinda forgot about this group. My apologies.
Okay, so my friend Erin and I are finalists to win backstage passes to the WBCN River Rave this weekend to meet STP, so anyone that has a myspace page and would be willing to vote for Erin tonight, I would really appreciate it.

Voting starts at 8pm EST and will be open for 104 minutes. If anyone is going to be home at that time, you can:

Add www.myspace.com/wbcn as your myspace friend

They'll post a bulletin tonight at 8pm EST with directions on how to vote and they'll keep the voting open for 104 minutes.

Vote for Erin from Rockland, her myspace display name is Lepskin.

And if any of your friends have a myspace, feel free to tell them to vote too, or post a bulletin and let them know.

Anyone that is willing to help, I would owe you big time!
Rachel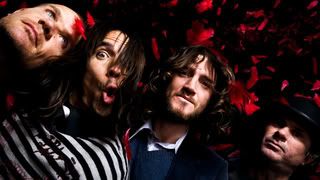 dailypeppers
is a community dedicated to the band Red Hot Chili Peppers and all of its members, past or present. Here you can post news, concert info, photos, music files, anything about their solo projects, etc. Please join and help make this the most active RHCP community there is! :)


I remember this song vividly. When I was in HS (high school), this song was HUGE on KROQ. Had a catchy beat, and a strange, quirky theme. Boy loses girl, girl won't take him back, girl changes mind, and boy becomes smug. The breathy, sexy voice of Mazzy Star lends itself as a great sounding foil to the male lead, and the only thing I don't like about this song is that there is only dueling voices (understandable, given the subject matter). I would have loved to have heard how their voices could mesh together.

Side note: The next song, alphabetically by musician, in my iTunes, is "Rocket 2 U" by the Jets...bad combo.
"Sometimes Always" by Jesus and Mary Chain ft. Mazzy Star. Unfortunately, I never got too much of a chance to hear either of these artists, and other than "Fade Into You", I haven't been exposed. Any leads would be nice.
Current Music:

"Sometimes Always" by Jesus and Mary Chain ft. Mazzy Star


This group will rock.

If you were born in the late 70s, this music was your life. If you grew up pained, disaffected, dissed, depressed, hated, lonely, or anything else negative, you most likely listened to alternative music. It got you through, and you still love it.

Take a quick look at some of the "interests" of this group. These are just a few of the bands we will discuss, the songs we will remember.

For today, for your beginning lesson, we will start pretty basic. Your assignment is to listen to "Laid" by James, and comment. What you remember, what it brings back, how you feel about it now.

I'll wait.
This is going to soon be the biggest, the baddest, the burliest, the balmiest, the...ok, no more good alliterative superlatives.